https://www.tebramil.swiss/products/tebramil-milk-formula-range/tebramil-premium/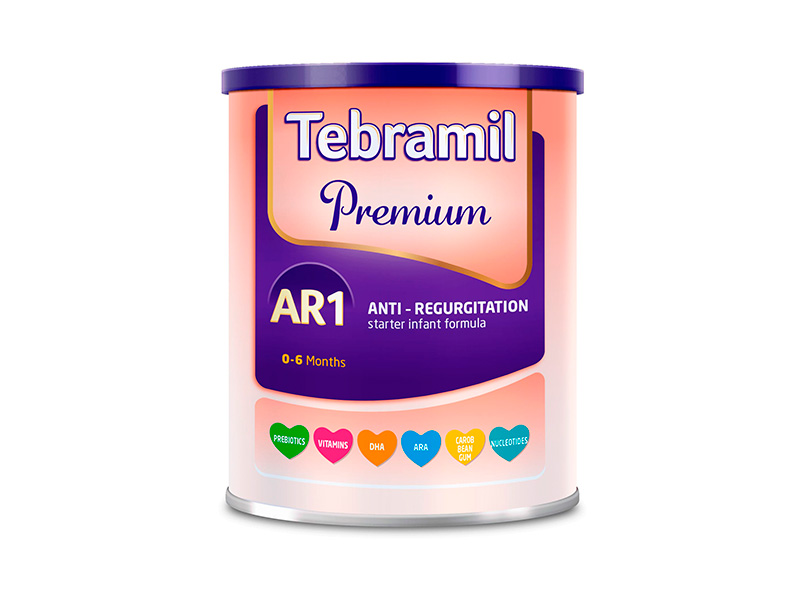 View Preparation & Other Details
View Preparation & Other Details
View Preparation & Other Details
For Pharmacists & Physicians
For Pharmacists & Physicians
For Pharmacists & Physicians
Contact Us
After age 6 months, it is advised to change to:
TEBRAMIL PREMIUM AR2 Anti-Regurgitation Follow-on Formula
https://www.tebramil.swiss/wp-content/uploads/2017/10/tebramil-premium-ar2.jpg
Learn More
Learn More
Learn More
https://www.tebramil.swiss/product/tebramil-premium-ar2-anti-regurgitation-follow-formula/
1
About Tebramil Premium AR1 Anti-Regurgitation Starter Formula
This is our special formula for infants that are susceptible to increased incidences of vomiting and hard stool.
1
https://www.tebramil.swiss/wp-content/uploads/2017/10/carob-heart.png
It is specially fortified with the natural dietary fiber, carob bean gum extract which reduces vomiting by thickening the milk, while also promoting soft stool.
Designed to be used either as a standalone formula, or to be combined with breastfeeding, it is also enriched with ample energy-giving fats which provides optimal energy for your infant's normal early life development when milk is their only source of energy.
Tebramil, Swiss Made Nutrition. Inspired by nature!
Casein / Whey: 40:60 (similar to breast milk)
TEBRAMIL Premium AR1 Anti-Regurgitation Starter Formula additionally contains an entire range of daily recommended nutrients to support your child's normal early life development as follows:
Dietary Fiber for gastrointestinal health
(similar to breast milk) - Enhances the immune and digestive system
Supports visual development
Supports brain development
A, B, C, D, E, K - Supports proper development and function of many organs, bones and blood
PREPARATION OF FEEDS
Wash your hands with soap and water and dry with a clean towel.
Wash feeding bottle, nipple and cap, and then boil them for 5 minutes.
Boil drinking water for 5 minutes and allow to cool to 40°C.
Pour the exact amount of lukewarm water indicated on the feeding table below into the feeding bottle.
Add the exact number of leveled scoops of Tebramil Premium AR1 Anti-Regurgitation Starter formula then close the feeding bottle.
Shake the feeding bottle well until the milk powder is fully dissolved.
GUIDELINES
Unboiled water, unsterilized bottles and utensils, and/or incorrect preparation, can make your baby ill.
Follow all instructions carefully and exactly and use only the enclosed scoop.
Prepare only one feeding portion at a time. Always make sure that the prepared milk is lukewarm.
Do not alter the formula preparation indicated in the feeding table except under the recommendations of your physician. Using less or more powder than indicated will either lead to dehydration or deprive your baby of proper nutrition.
Always hold your baby while feeding. Leaving your baby unattended may cause choking.
Use content within a maximum of 4 weeks after opening. Use by the date shown at the bottom of the tin.
Close the tin tightly and store it in a cool, dry place and away from direct sunlight.
Prepared Tebramil formula must be consumed within a maximum of 1 hour after preparation.
Throw away any unfinished milk after feeding.
FEEDING TABLE: Tebramil Premium AR1 Anti-Regurgitation Starter Formula
Age
Feeding per 24 hr
Water ml (cc)
Scoops (8.7 ml)
1 – 2 / weeks
6
90
3
3 – 4 / weeks
5
120
4
1 – 2 / months
5
150
5
3 / months
5
180
6
4 – 6 / months
5
210
7
IMPORTANT NOTES
Breast milk is the best choice for infants.
Please consult your doctor before using any infant formula.
Tebramil Premium AR1 Anti-Regurgitation Starter Formula is made for infants ages 0 to 6 months with symptoms of regurgitation and when breastmilk is not sufficient or is absent.
Tebramil Premium AR2 Anti-Regurgitation Follow-on is our formulation for infants ages 6 to 12 months.
From ages 6 months onwards, doctors advise that babies be fed a diversified diet that includes vegetables, fruits and cereals.
INGREDIENTS
Skimmed milk, lactose, vegetable fats and oils, whey protein concentrate, carob bean gum, galacto-oligosaccharides, minerals, vitamins, emulsifier mono-/diglycerides of fatty acids, refined fish oil, arachidonic acid oil, nucleotides, choline, taurine, inositol, antioxidants, L-carnitine.
AVAILABLE SIZES
Tin 400 Gr: Language English / Arabic
Tin 800 Gr: Language Spanish / English
WARNING
Never use a microwave to prepare or warm-up feed.
Microwave heat unevenly and may cause "hot spots" that could scald the infant's mouth.
Store the Tebramil Formula container at room temperature.
After opening and using the Tebramil Formula container, cover the container tightly with the plastic cap and store in a cool, dry place.
Do not freeze the container and its contents, and avoid exposure to excessive heat.