https://www.tebramil.swiss/products/tebramil-jar-range/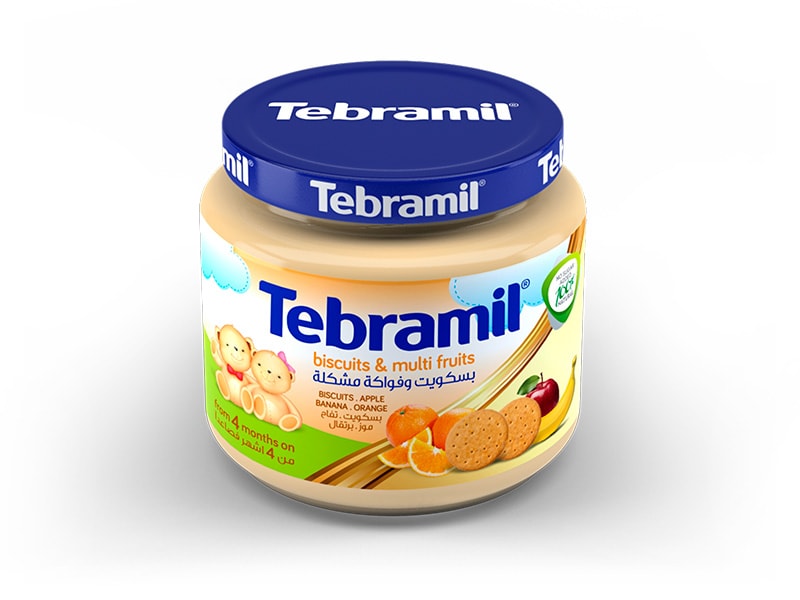 View Preparation & Other Details
View Preparation & Other Details
View Preparation & Other Details
Contact Us
Tebramil Jars: 4 Months Onward
After age 3 years, it is advised to change to:
A balanced Solid food diet
TEBRAMIL 2 Follow-on Formula
https://www.tebramil.swiss/wp-content/uploads/2017/10/tebramil-2.jpg
About Tebramil Biscuits & Multi Fruits Jar
Tebramil Biscuits & Multi Fruits Jar is textured with biscuits, and packed with an assortment of flavor-filled fruits for your infant's enjoyment and nutritious consumption of vitamins and fibers.
An excellent start to the weaning diet, it is a nutritionally balanced complement to our Stage 1 Starter formulas and to breastfeeding.
Tebramil, Swiss Made Nutrition. Inspired by nature!
Tebramil Biscuits & Multi Fruits Jar is naturally sweetened by the fresh fruits it contains, and additionally has the following nutrients:
For a healthy Gastrointestinal system
PREPARATION OF FEEDS
Wash your hands with soap and water and dry with a clean towel.
Open the Jar by twisting the cap. As our Jars are vacuumed packed, you should hear a popping sound when opening – this is to ensure freshness.
Begin feeding your infant 2 to 4 teaspoons and increase serving up to one Jar per serving.
STORAGE
Once opened, jars can be kept refrigerated for up to 24 hours. Ensure that the Lid is closed tightly.
Keep unopened jars out of sun light.
Do not add salt or sugar to the servings.
Discard unused servings.
AVAILABLE SIZES & LANGUAGES
Bottle 130g: Language English / Arabic