https://www.tebramil.swiss/products/tebramil-cereal-range/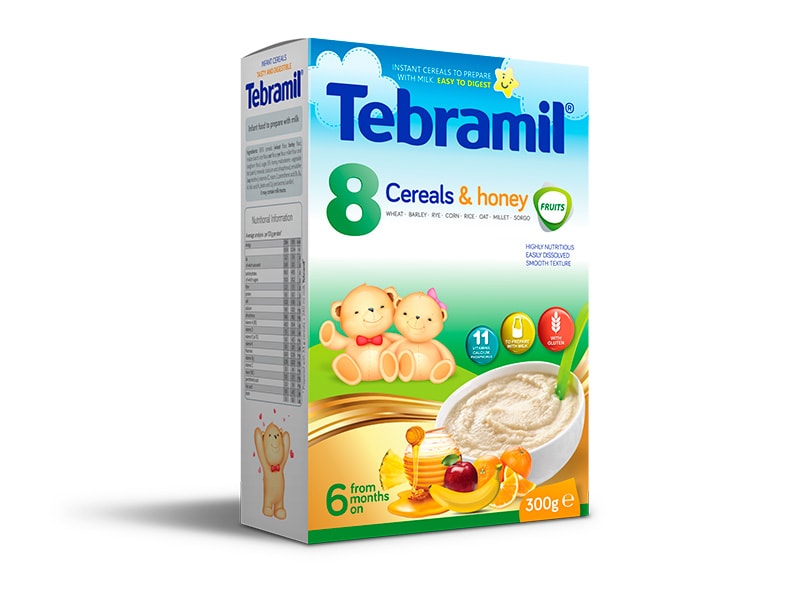 View Preparation & Other Details
View Preparation & Other Details
View Preparation & Other Details
For Pharmacists & Physicians
For Pharmacists & Physicians
For Pharmacists & Physicians
Contact Us
After age 3 years, it is advised to change to:
A balanced Solid food diet
TEBRAMIL 2 Follow-on Formula
https://www.tebramil.swiss/wp-content/uploads/2017/10/tebramil-2.jpg
Tebramil Cereal Range: 4 Months Onward
Learn More
Learn More
Learn More
https://www.tebramil.swiss/product/tebramil-2-follow-on-formula/
About Tebramil 8 Cereals & Honey with Fruits
Tebramil 8 Cereals & Honey with Fruits is a packed with an assortment of fruits for your child's enjoyment and consumption of vitamins as they begin their journey to diet diversification.
https://www.tebramil.swiss/wp-content/uploads/2017/11/BETA-Palmitate-Heart.png
Tebramil, Swiss Made Nutrition. Inspired by nature!
Tebramil 8 Cereals & Honey with Fruits additionally contains an entire range of daily recommended nutrients to support your child's normal early life development as follows:
For a healthy Gastrointestinal system
For healthy bones and teeth
For healthy bones and teeth
PREPARATION OF FEEDS
Tebramil® instant cereals are ready to prepare and no cooking is required. They should be prepared only by adding warm infant milk.
Wash your hands with soap and water and dry with a clean towel.
Use clean utensils.
Using a Clean Bowl: Following the quantities indicated in the feeding table, pour the required amount of warm milk (50°C) into the bowl and add the correct number of spoons of Tebramil® instant cereals.
Stir carefully with a fork into a smooth mixture.
Always check the temperature before feeding the baby. Do not add salt or sugar.
After feeding, discard unused prepared cereals and wash utensils
GUIDELINES
Unclean utensils, and/or incorrect preparation, may make your baby ill.

Follow all instructions carefully and exactly and use only the enclosed scoop.

Prepare only one feeding portion at a time. Always make sure that the prepared cereal is lukewarm.

Do not alter the formula preparation indicated in the feeding table except under the recommendations of your physician.

Always attend your baby while feeding. Leaving your baby unattended may cause choking.
FEEDING TABLE: Tebramil 8 Cereals & Honey with Fruits
Age (Months)
Cereal Powder (Tablespoons*)
Milk ml (cc)
6 – 7
4 – 5
210
7+
5 – 6
240
*1 Tablespoon = 6 g
IMPORTANT NOTES
Store in a cool and dry place. Close the bag tightly after each use. Once the bag is opened, the product should be used within 1 month maximum. Packed under a protective atmosphere.
INGREDIENTS
66% cereals (wheat flour, barley flour, maize starch, rice flour, oat flour, rye flour, millet flour and sorghum flour), sugar, 6% honey, maltodextrin, vegetable fat (palm), minerals (calcium and phosphorus), emulsifier (soy lecithin), vitamins (C, niacin, E, pantothenic acid, B1, B6, A, folic acid, K1, biotin and D3) and aroma (vanillin).
May contain milk traces.
AVAILABLE SIZES
Pouch in box 300 Gr : Language English / Arabic
WARNING
Breast Feeding Warning: Supplemental food does not replace natural breast-feeding and does not match the nutritional value of breast milk. Products should be used according to recommendations from competent physicians.
Microwave Warning: Never use a microwave to prepare or warm-up feed. Microwave heat unevenly and may cause "hot spots" that could scald the infant's mouth.